Posts for: October, 2021
By Heitke & Vu LTD
October 14, 2021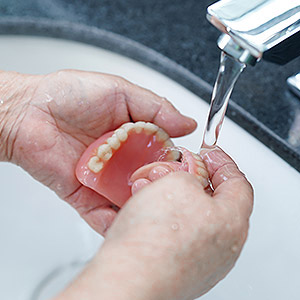 Today's dentures are more comfortable, more functional and more life-like than ever before—so much so that you might forget you have them in. Even so, dentures do have some downsides, and constant wear only amplifies those.
Our biggest concern is the effect dentures can have on bone health. Older bone is constantly replaced by newer bone, and the forces generated while chewing help stimulate this new growth. When a tooth is lost, however, this growth stimulus vanishes with it for that area of the bone. This may result in a slower growth rate, which can eventually lead to lost bone volume and density.
Dentures can't restore this lost stimulus, and may even make the situation worse. That's because traditional dentures rest on the bony ridges of the gums where the teeth once were. This can put pressure on the underlying bone, which can accelerate bone loss—and even more so when wearers leave their dentures in continuously.
Dentures can also contribute to disease if they're not regularly removed and cleaned. Besides oral yeast infections, bacteria-laden dentures can contribute to the production of a protein called interleukin-6 produced by the white blood cells. If a significant amount of this protein passes into the blood stream, it can increase body-wide inflammation and foster a systemic environment conducive to serious diseases like pneumonia.
If you wear dentures, then, it's good for your health (oral and otherwise) to incorporate two practices into your daily life. The first is to remove your dentures at night while you sleep. Not only will this help slow the progression of bone loss, it will also give your gums a chance to rest and recover from denture wear.
It's also important to regularly clean your dentures, either with an antibacterial soap or a special denture cleanser. During storage, keep your dentures in clean water or a peroxide-based solution designed for dentures. This will reduce the accumulation of bacteria on your dentures that can cause disease.
Dentures restore the dental function and smile appearance that a person loses with their teeth. Taking care of your dentures (and giving your mouth a daily rest from them) will help promote good oral and general health for you and a longer life for your dentures.
If you would like more information on denture care, please contact us or schedule an appointment for a consultation. You can also learn more about this topic by reading the Dear Doctor magazine article "Sleeping in Dentures."
By Heitke & Vu LTD
October 04, 2021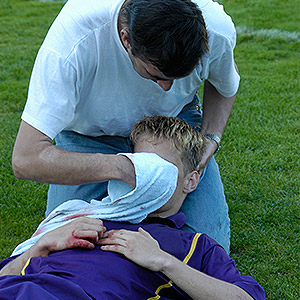 Although kids are resilient, they're not indestructible. They're prone to their share of injuries, both major and minor—including dental injuries.
It's common for physically active children to suffer injuries to their mouth, teeth and gums. With a little know-how, however, you can reduce their suffering and minimize any consequences to their long-term oral health.
Here are 4 types of dental injuries, and what to do if they occur.
Chipped tooth. Trauma or simply biting down on something hard can result in part of the tooth breaking off, while the rest of it remains intact. If this happens, try to retrieve and save the chipped pieces—a dentist may be able to re-bond them to the tooth. Even if you can't collect the chipped pieces, you should still see your dentist for a full examination of the tooth for any underlying injury.
Cracked tooth. A child can experience intense pain or an inability to bite or close their teeth normally if a tooth is cracked (fractured), First, call the dentist to see if you need to come in immediately or wait a day. You can also give the child something appropriate to their age for pain and to help them sleep if you're advised to wait overnight.
Displaced tooth. If a child's tooth appears loose, out of place or pushed deeper into the jaw after an accident, you should definitely see a dentist as soon as possible—all of these indicate a serious dental injury. If they're unavailable or it's after hours, your dentist may tell you to visit an emergency room for initial treatment.
Knocked-out tooth. Minutes count when a tooth is knocked completely out. Quickly locate the tooth and, holding it only by the crown and not the root, rinse off any debris with clean water. Place it in a glass of milk or attempt to place it back into the socket. If you attempt to place it back into the socket, it will require pressure to seat the tooth into position. You should then see a dentist or ER immediately.
A dental injury can be stressful for both you and your child. But following these common-sense guidelines can help you keep your wits and ensure your child gets the care they need.
If you would like more information on pediatric dental treatment, please contact us or schedule an appointment for a consultation.