Posts for: October, 2017
By Heitke & Vu LTD
October 29, 2017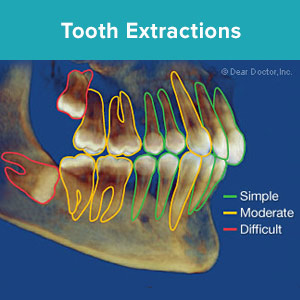 When a tooth is beyond repair due to disease or injury, it may be necessary to remove it. A "simple" tooth extraction is among the most common in dentistry and certainly not the agonizing procedure depicted in common lore.
They're referred to as simple extractions because the shape of the tooth and root allows for a fairly straightforward and uncomplicated removal. An example would be the normally cone-shaped upper front tooth that doesn't offer a lot of resistance during the extraction process.
The process itself is fairly straightforward. Teeth are held in place by the periodontal ligament, an elastic tissue made of tiny fibers that attaches the tooth to the supporting bone. These fibers can be dislodged from the tooth with some careful manipulation — in the hands of an experienced dentist there's a deft "feel" to the fibers loosening. Once they've detached, it requires little effort to remove the tooth; with the aid of local anesthesia, you won't feel anything but a little pressure.
Immediately after the tooth is removed, we commonly insert bone grafting material in the socket to minimize bone loss until a permanent replacement like a dental implant can be installed after tissue healing. We then place sterile gauze over the site for a few minutes to control bleeding and, depending on the size of the wound opening, we may also place a few stitches to close it. We then give you instructions for caring and cleaning the site over the next few days, and prescribe antibiotics to reduce the chance of infection and anti-inflammatory drugs for any discomfort.
Although a simple extraction is a routine procedure, it's important to perform a proper assessment of the tooth and the surrounding bone beforehand, including x-rays to determine the tooth's exact shape and position. If we discover a complication that makes a simple extraction impractical (like multiple roots at acute angles), we may then refer you to an oral surgeon for a more complicated surgical extraction.
It's our hope you'll have your natural teeth for as long as you live. But if you must have one removed, you can rest assured it's a common — and uneventful — experience.
If you would like more information on tooth extraction, please contact us or schedule an appointment for a consultation. You can also learn more about this topic by reading the Dear Doctor magazine article "Simple Tooth Extraction."
By Heitke & Vu LTD
October 14, 2017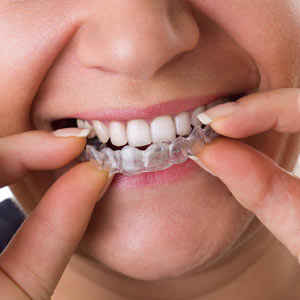 You've invested a lot of time and money in orthodontic treatment to improve your smile. If you're not careful, though, your teeth could actually move back to their old positions. The reason why is related to the same natural tooth-moving mechanism we use to straighten teeth in the first place.
Teeth are held in place by an elastic, fibrous tissue called the periodontal ligament lying between the teeth and the jawbone and attaching to both with tiny collagen fibers. The periodontal ligament allows for incremental tooth movement in response to pressure generated around the teeth, as when we chew (or while wearing braces).
Unfortunately, this process can work in reverse. Out of a kind of "muscle memory," the teeth can revert to the older positions once there's no more pressure from the removed braces. You could eventually be right back where you started.
To avoid this, we have to employ measures to hold or "retain" the teeth in their new positions for some time after the braces come off. That's why we have you wear a dental appliance called a retainer, which maintains tooth position to prevent a relapse. Depending on what's best for your situation, this could be a removable retainer or one that's fixed to the teeth.
Patients typically wear a retainer around the clock in the immediate period after braces, and then eventually taper off to just nighttime wear. Younger patients must wear one for several months until the new teeth positions become more secure and the chances of a rebound diminish. For older patients who've matured past the jaw development stage, though, wearing a retainer may be a permanent necessity to protect their smile.
Retainer wear can be an annoyance, but it's an absolute necessity. Think of it as insurance on your investment in a new, more attractive smile.
If you would like more information on improving your smile through orthodontics, please contact us or schedule an appointment for a consultation. You can also learn more about this topic by reading the Dear Doctor magazine article "The Importance of Orthodontic Retainers."