Posts for: April, 2014
By Heitke & Vu LTD
April 17, 2014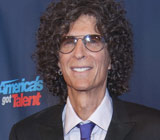 Is there anything that radio and TV personality (and self-proclaimed "King of All Media") Howard Stern doesn't want to talk about in public? Maybe not — but it took a caller's on-air question to get the infamous shock jock to open up about his own dental work.
When he was directly asked if his teeth were capped, Stern said no. "I redid 'em [some time] ago… I had bonding and um… veneers… over my real teeth. But I don't get that 'Hollywood white' though," he said, before adding his uncensored opinion on the subject of proper tooth shades.
As we're sure Stern would be the first to point out, everyone has a right to their own opinion. But we're pleased that Howard brought up an important point about veneers: They are custom-made in a whole range of different shades, from a more 'natural' tooth color to a brilliant white shine. Which one you select depends on what look is right for you — and that's your choice.
In case you aren't familiar with veneers, they are fingernail-thin coverings made of porcelain, which are bonded onto the surfaces of the teeth. This enables them to hide a number of defects — like chips, discoloration, and even small irregularities in spacing. They can also be used to lengthen teeth that seem out of proportion to the gums, lips or other facial features.
Veneers are among the cosmetic dental treatments most favored by Hollywood stars… as well as regular folks who want a dramatic improvement in their smile. Unlike crowns (caps), which generally require extensive reshaping of the tooth, standard veneers require the removal of just fractions of a millimeter of tooth surface. That makes them a minimally invasive method of smile enhancement that can make a big difference in your appearance. In fact, veneers are often a major part of a complete "smile makeover."
Dental veneers are custom made in a laboratory from a mold of your teeth. They are designed to fit your teeth perfectly — and to be just the shade you want. When you come in for a consultation, we will discuss what you like and don't like about your smile, and how we might improve it. Will you opt to get the brilliant "red-carpet" smile you always wished for… or go for a subtle, more natural tooth color? Only you can decide.
Howard Stern's veneers may be the most restrained thing about him… but we're just glad that veneers helped him get the kind of smile he wanted. You can, too. If you would like more information on dental veneers, please contact us or schedule an appointment for a consultation. You can learn more about this topic in the Dear Doctor magazine articles "Porcelain Veneers" and "Porcelain Crowns & Veneers."
By Heitke & Vu LTD
April 02, 2014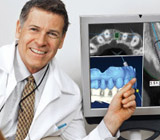 There's no question that x-ray imaging has transformed how we diagnose and treat dental problems. But traditional x-rays have at least one limitation — they are two-dimensional portraits that can only provide a portion of the information available. If you could view the interior of teeth or other mouth structures in three dimensions, you would have access to more detail about their conditions.
Computerized axial tomography (CAT) scanning has brought that third dimensional view to physicians generally and, in more recent years, to dentists. The latest development in this technology is known as Cone Beam Computed Tomography (CBCT). A CBCT emits a spiral of x-rays that form a cone-shaped beam that is caught on detectors. Using digital geometry, the CBCT then generates a three-dimensional image by precisely "layering" this large series of two-dimensional images caught by the detectors on top of each other.
CBCT is already making a significant impact in dentistry and its related specialties. Dentists now can visualize with amazingly precise detail the three-dimensional anatomy of the teeth, jaws, facial bone and other structures in the head and neck area. Orthodontists can examine the growth stages of a patient's teeth eruption to better prepare treatment strategies. Oral surgeons can determine the precise location of impacted teeth and their exact proximity to nerves and sinuses. And, periodontists who specialize in gum disease and treatment can better determine the level of bone loss and gum attachment for more accurate diagnoses and effective treatment.
While a CBCT delivers a higher dose of x-rays than a traditional panoramic radiograph, it actually delivers a lower dosage than a digital standard 18 film full mouth series or than conventional medical CT scanners. The field of view also determines the level of x-ray exposure — the smaller the field of view (and more concentrated the x-rays) the higher the dosage and the better detail of anatomy.
The good news, though, is that a low dosage CBCT scan can still provide a level of detail that can provide dentists with a very accurate view of anatomical features, including bone density and mass, in three dimensions. That capability can vastly elevate the accuracy of diagnoses and lay the groundwork for effective dental treatment.
If you would like more information on the uses of CBCT scanning to help you maintain dental health, please contact us or schedule an appointment for a consultation. You can also learn more about this topic by reading the Dear Doctor magazine article "CAT Scans in Dentistry."