Posts for: December, 2013
By Heitke & Vu LTD
December 16, 2013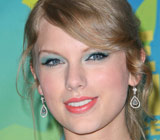 "Break a leg" is a well-known theatrical expression for wishing good luck to an actor about to go on stage. Singers should have one of their own…"Chip a tooth"! Apparently collisions between microphones and pearly whites are an occupational hazard for crooners. Taylor Swift became one of the latest casualties during a concert in Pittsburgh while belting out her hit "I Knew You Were Trouble." The consummate professional, she didn't miss a beat and kept on singing despite seeing a tooth chip hit the floor.
After all, while chipping a tooth is an inconvenience, it's not a permanent smile wrecker. Modern dentistry offers several options for restoring a damaged tooth to its original symmetry and luster, or even better!
Bonding
Dental cosmetic bonding is the quickest and lowest-cost option to repair a chip. This involves application of a composite filling material that is colored and shaped to match the original tooth. Bonding material can be used to replace the lost portion of tooth or to seamlessly reattach the lost portion if it has been preserved and is otherwise undamaged. Little to no removal of existing tooth surface is needed.
Veneers
A veneer can be used for slightly larger areas or discolored teeth. This is a thin, custom-made shell placed on the front of the tooth to give it a new "face." Some removal of existing tooth surface may be necessary to fit a veneer so it is flush with the surfaces of surrounding intact teeth.
Crowns
When a relatively large portion of the tooth is missing, a crown is often the better choice. It fully encases the visible portion of the remaining tooth above the gum line and is shaped and sized to match the original. It can be made of tooth-colored porcelain fused to metal crowns or all-ceramic (optimal for highly visible areas). A small amount of the existing tooth surface will be removed to allow the crown to fit over it.
If you would like more information about repairing a chipped tooth, please contact us or schedule an appointment for a consultation. You can also learn more about this topic by reading the Dear Doctor magazine article "Artistic Repair of Front Teeth With Composite Resin."
By Heitke & Vu LTD
December 06, 2013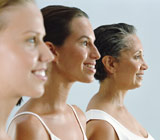 You may think the structures of your face and mouth stop growing when you reach adulthood. That's not true: your skeletal structure, facial features and soft tissues continue to change all through your life, even into old age. In fact, there's as much change from ages 25 to 42 as there is from ages 18 to 25. This fact of continuous growth and change affects the approaches we may take to satisfy your oral and dental needs.
We should especially consider facial changes due to aging as a factor when planning orthodontic treatment. For example, as we age the profile of our face will tend to flatten, which makes our nose become more prominent (and, yes, our noses continue to grow longer as we grow older). A good plan will take advantage of this, especially during expected growth spurts such as right before puberty. As the position of the patient's bite improves through treatment, the continuing growth of their facial profile will continue to bring the angle of the jaw into a more aesthetic position.
Likewise, where there are multiple issues with the mouth and face, orthodontics can be employed with other treatments such as rhinoplasty, the surgical improvement to the shape of the nose, or orthognathic surgery, procedures that correct problems associated with the position and structure of the lower jaw. As we employee these techniques, we keep in mind that the mouth and face are essentially a "moving target" — that is, they will continue to move in the direction of change due to aging. We coordinate the outcomes of treatment to eventually meet up with that eventual growth.
Armed with an understanding of how change occurs during aging, we can coordinate these procedures into a well-timed strategy that actually takes advantage of the aging process. The end result is a more favorable aesthetic appearance for the long-term.
If you would like more information on how aging can affect your dental health and treatment options, please contact us or schedule an appointment for a consultation. You can also learn more about this topic by reading the Dear Doctor magazine article "Understanding Aging Makes Beauty Timeless."