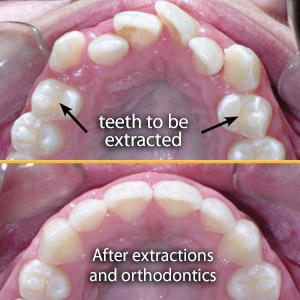 Dentists extract millions of teeth each year, mostly because of disease. But sometimes a healthy tooth is removed to gain a more favorable, long-term dental health outcome.
An example of this is extracting teeth for the sake of orthodontic treatment. This is often beneficial when treating bite problems caused by crowding, a condition in which not enough space on the jaw exists to accommodate all of the teeth coming in. When this happens, the limited space can force teeth out of their proper alignment.
Crowding also complicates correcting the bite problem with braces: As with the eruption phase, there's no available room for orthodontic movement. One solution that may arise after a detailed examination is to open up space on the jaw by removing some of the teeth.
Planning this kind of tooth extrication requires careful forethought with the end in mind—ultimately, the dental providers involved want the resulting appearance after braces to look as natural as possible. For that reason, dentists usually choose teeth for extraction that are outside of the "smile zone" (the teeth visible while smiling) like premolars and molars.
Additionally, dentists are concerned about bone loss after extracting the teeth. Bone often diminishes around empty tooth sockets, especially if those sockets were damaged during extraction. This loss in bone can weaken the jaw structure and cause significant problems while moving teeth with braces.
To avoid this, dentists take great care during tooth removal not to damage the socket. Additionally, they may place a bone graft within the socket immediately after removing the tooth, especially if the space will remain vacant for a significant period of time. A bone graft serves as a scaffold upon which new bone cells can form and accumulate.
After the extractions, the orthodontist may then proceed with correcting the bite. Patients may also need some form of prosthetic teeth to fill in the spaces while wearing braces. Often prosthetic teeth can be incorporated with the braces for a more natural look. After braces, any remaining gaps may require further restoration, either with dentures, bridges or, later in adulthood, dental implants.
Complex bite problems like crowding pose unique challenges in correcting them. But using techniques like tooth extraction can help achieve a successful and satisfactory outcome.
If you would like more information on treatments for bite problems, please contact us or schedule an appointment for a consultation. You can also learn more about this topic by reading the Dear Doctor magazine article "Tooth Removal for Orthodontic Reasons."