---
Please click below
to enter Payment Portal:
---
Isthmus Dental, Ltd - Dentist Madison, WI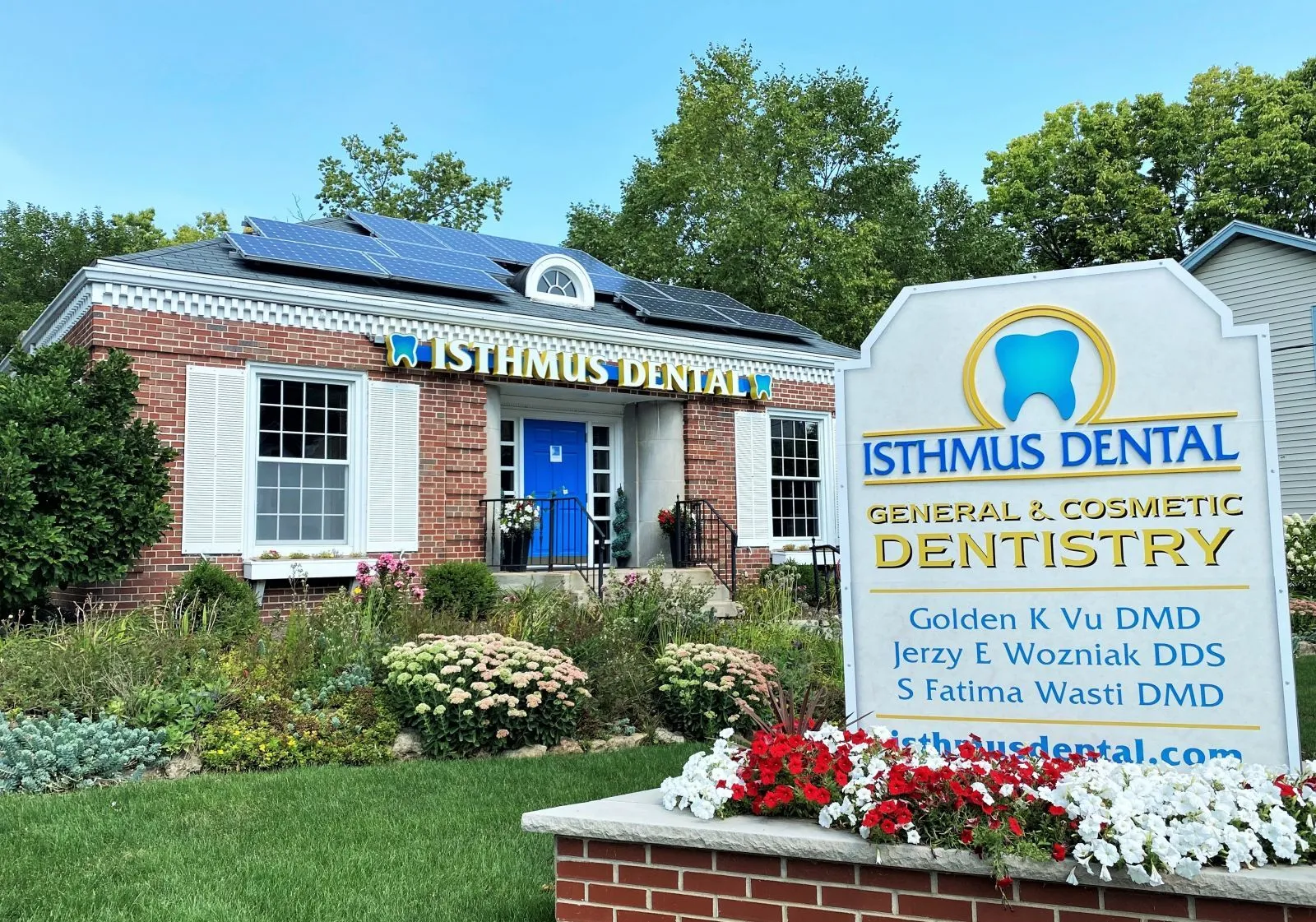 From first contact at Isthmus Dental Ltd, our Madison dentists are committed to your individual attention and provide personalized oral health care tailored for your unique dental needs and goals. We create the ultimate stress-free and comfortable dental experience for you. Your health and comfort are our top priorities, and we do what it takes to help every patient understand their symptoms and treatment options in a relaxed office setting.
Dr. Vu and Dr. Wozniak look forward to helping you achieve your healthiest smile!
It is our mission to educate and provide our patients with the best dental care in Madison. For that reason, we've designed this website to provide you with all of the important information you need to make healthy decisions about your teeth and gums. We encourage you to browse our office page, service details and patient education library whenever you have a question about our practice or your oral health.
Achieving quality dental care shouldn't be difficult, so at Isthmus Dental Ltd we make it simple to achieve your healthiest, most beautiful smile. Whether you are looking for information on implants, teeth whitening, crowns, or preventive care, you can learn more about all of your options from our services page. For your convenience, you can also request an appointment online with our Madison dentist and download patient forms directly from our website.
Feel free to contact our Madison office with any questions. Free parking available. We look forward to meeting you and making each visit to our office a positive experience.
---
State of WI Employees
As a Delta Dental Premier Provider, Isthmus Dental accepts the State Uniform Dental Plan or the Delta Dental PPO Plus Premier - Preventive Plan for basic and preventive coverage, as well as the Delta Dental PPO Plus Premier - Select Plus Plan that is offered as a supplemental plan.

Please feel free to contact our office with any questions you may have.
We value you and very much appreciate your choosing our office for your dental needs.
---
Covid-19 Safeguards
We are following current recommendations from the CDC for medical facilities and have the following precautions in place to help protect our patients, staff, and community.
Patient Information:
Masks are welcome, but not currently required in our waiting area per CDC public indoor guidance. Because your health and safety are our top priorities, our team will continue wearing masks & follow strict COVID-19 safety protocols during all exams and procedures.
We will provide you with hand sanitizer and masks that you may use when you enter the office.
We provide each patient with protective eye wear for their appointment. This eye wear is sterilized after each patient use, but if you feel more comfortable bringing your own, we encourage you to do so.
We are using industry leading practices to help protect our patients and team.

Disinfection and Air-Filtration:
We have purchased fourteen Medify Air medical grade HEPA air purifiers with multi-stage filtration of particles down to 0.1 microns, which is smaller in size than Covid-19 at approximately 0.125 microns. Every room in our facility will have an air purifier, including each of our patient treatment rooms, one in the waiting room and one at our front desk area. All fourteen purifiers will be operating continuously throughout the day. You can learn more about these air purifiers at https://medifyair.com/
To ensure air traveling through our facility from our heating and cooling system is disinfected, we have invested in a medical grade UV-C light system for our HVAC. There are 2 lights, one positioned at the return and one positioned at the supply of our HVAC system. This will allow the maximum time and exposure of the air to the UV-C light. You can learn more about this system here: https://www.honeywellhome.com/us/en/products/air/uv-air-purifiers/uv-air-purifier-with-airbright-odor-absorption-uv2400u5000-u/
We will continue to use EPA approved surface disinfecting solutions and using disinfecting protocols recommended by the CDC and OSHA between each patient.
Enhanced Personal Protective Equipment (PPE):
Our team is provided with the highest quality PPE available.
Due to the additional PPE that our team will be wearing, we will be keeping our office cooler. You may want to dress more warmly for your appointment.
We will continue to closely monitor updates from the ADA, CDC, OSHA and the Department of Health Services and will continue to seek guidance from these agencies. We will keep you informed of any changes.
We are so happy to be seeing you and will answer any questions you may have about the steps we take to keep you, and every patient, safe in our practice. If you would like to make an appointment, please call our office at 608-257-0116.
Thank you for your continual support. We value your trust and loyalty and look forward to welcoming our patients, neighbors and friends to our office.